Zesty Orange Walnut Granola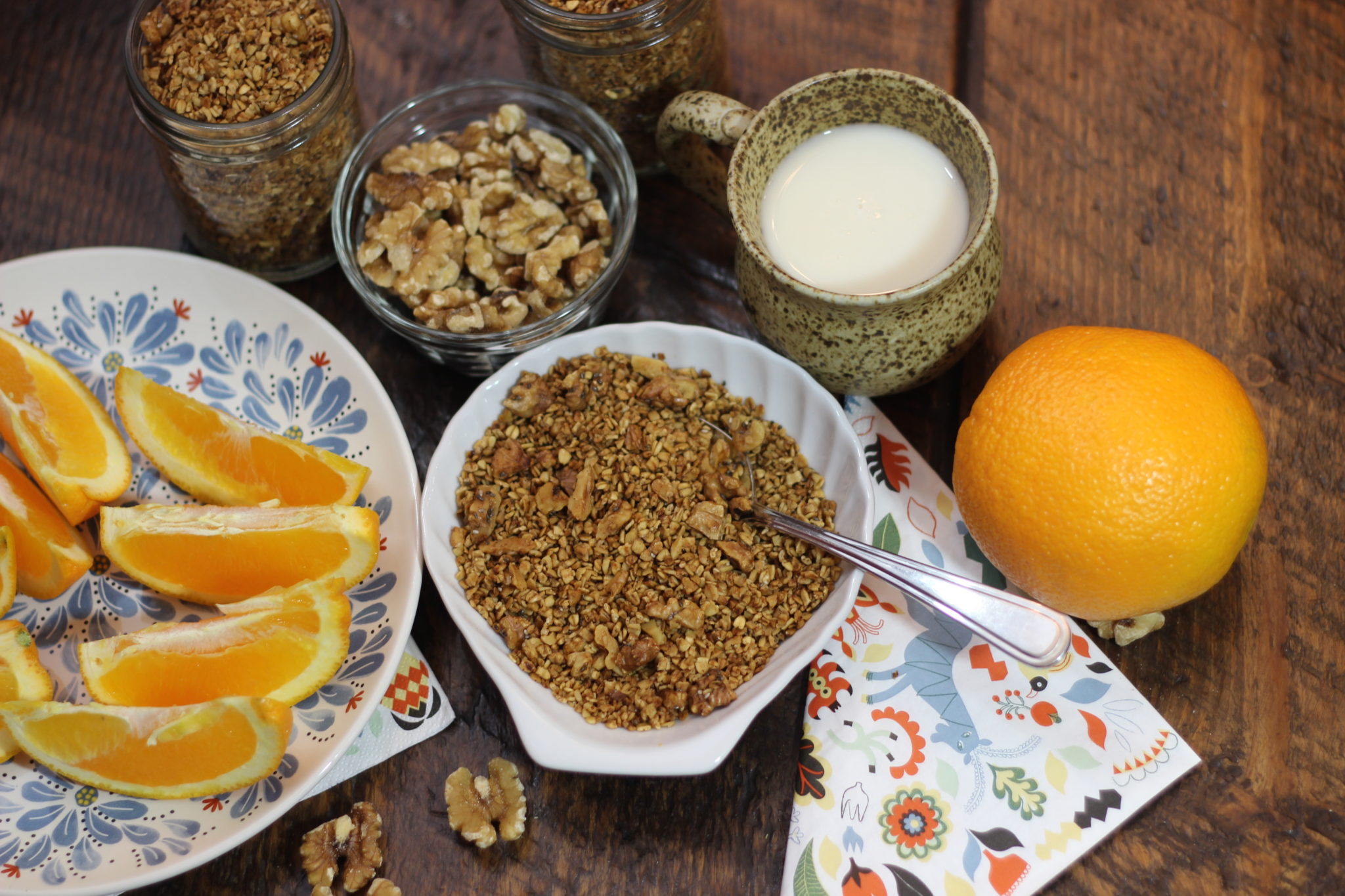 If you think that making low FODMAP granola is difficult, think again! It takes less than 10 minutes to mix all of the ingredients and then it bakes for 25 minutes. Voila, crispy golden granola.
Let's just say, I've made my fair share of home made granola, but I keep coming back to the same main ingredients. Oats, walnuts and maple syrup. This one with orange zest is my absolute favourite!
Why I love walnuts
In my opinion, walnuts are a superfood in disguise. Walnut oil is high in ALA (alpha-linolenic acid), a plant based omega-3 essential fatty acid. Walnuts are great source of protein. A quarter cup has 5 grams so they can help to keep you full. They are also low in FODMAPs. I love to add walnuts to my morning oatmeal, sprinkle them salads, and I even use ground walnuts to make a creamy tomato pasta sauce.
FODMAPs in store-bought granola
Although granola can make a healthy breakfast, many store-bought granolas contain high FODMAP ingredients like honey, agave, cashews, inulin, chicory root, and others. They also may contain several foods that become high FODMAP in larger servings like flax, dried coconut, chia, almonds, sunflower seeds, or pumpkin seeds.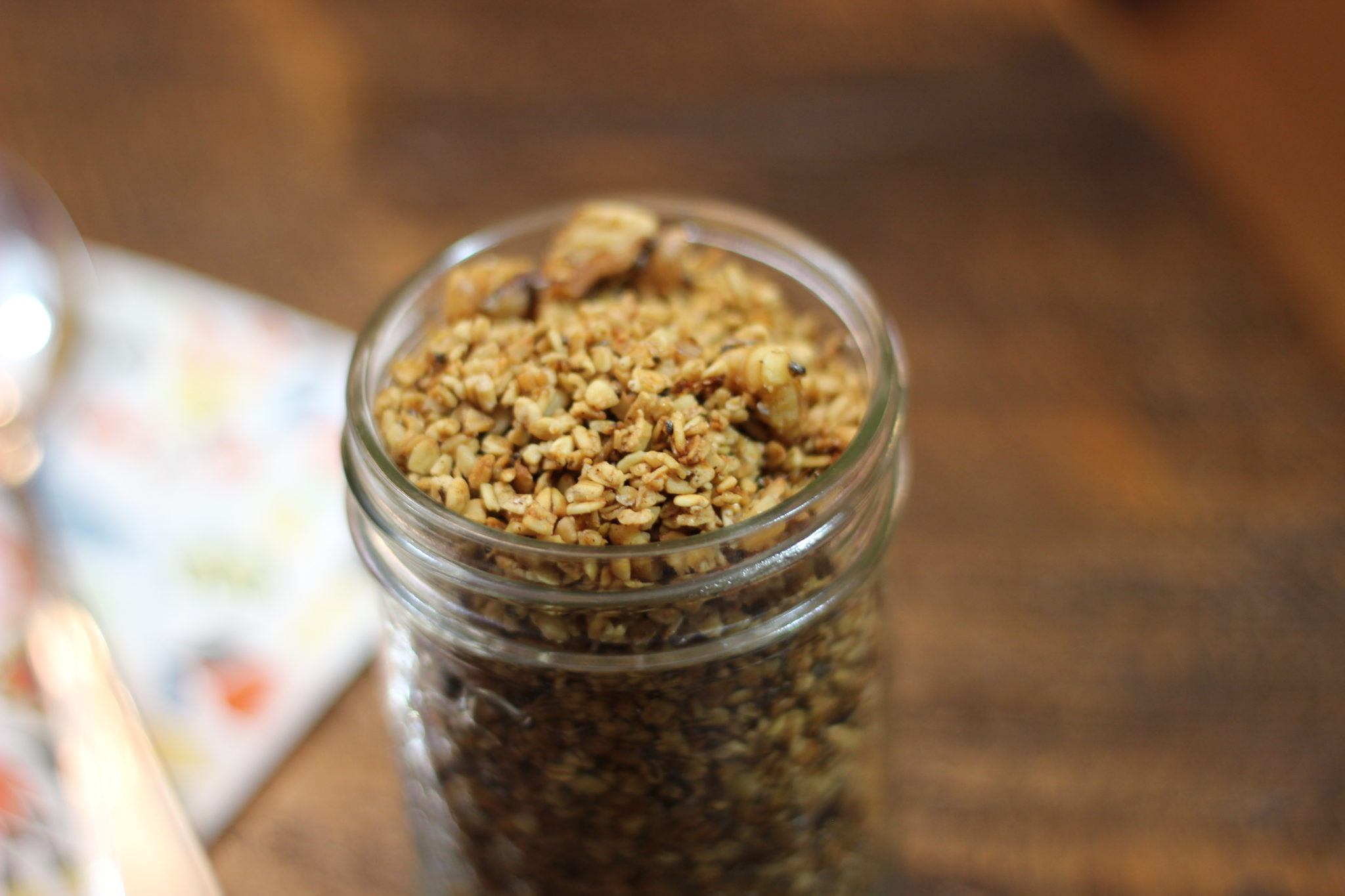 4 Ways of eating low FODMAP granola
Granola is not just a breakfast food. It is highly versatile. You can enjoy it in many ways throughout the day:
Home-made granola bars (see the recipe below)
Plain lactose free yogurt, fruit and brown sugar or maple syrup
Lactose free milk or almond milk
On top of a fruit smoothie bowl
Trail mix
Recipe:
Low FODMAP Orange Walnut Granola & Bonus Granola Bar Recipe
Author:
Prep time:
Cook time:
Total time:
This is an easy recipe to make with the ingredients in your pantry. Once mixed, it cooks in 25 minutes. Enjoy!
Ingredients
Zest of 1 orange
2 tbsp brown or white sugar
4 cups whole oats
1.5 cups walnuts, chopped
1/2 tsp salt
1/2 tsp cinnamon,
1/2 cup melted coconut oil, olive oil, or butter
1/2 cup maple syrup
Instructions
Preheat oven to 350 F and line 2 large, rimmed baking sheets with parchment paper.
In a small bowl, combine the orange zest and sugar.
In a large mixing bowl, combine the oats, walnuts, cinnamon, salt, and orange/sugar mixture.
Pour in the oil and maple syrup. Combine well.
Spread the granola onto your prepared baking sheets.
Bake for 25 minutes. Mix half way through.
Perfect-10 Low FODMAP Granola Bars
I made this recipe when I was expecting a group of kids after school. With every new recipe, my family or anyone who is around, is asked to rate it out of ten. As you guessed, all of my son's friends gave this recipe a perfect 10! One of the boys even asked for the recipe!
Enjoy!
Low FODMAP Orange Walnut Granola Squares:
Prep time:
Total time:
Makes 9 squares
Ingredients
1/3 cup natural peanut butter
1/2 cup brown rice syrup or corn syrup
2 cups Rice Krispies
1 cup low FODMAP orange walnut granola
Instructions
Heat the peanut butter and the syrup on medium in a medium sized pot. Stir continuously until they blend together.
Remove the pot from the burner and add the Rice Krispies and granola. Stir until they are combined.
Line an 8×8 baking dish with parchment paper.
Spread out the granola. Cover it with another piece of parchment paper and compress it with your hands until the bars are firmly packed and flat on top.
Place the pan into the freezer for 5-10 minutes to cool. This makes it easier to cut it into bars.
~Enjoy!