Food and Symptoms Journal (it's easier than you think)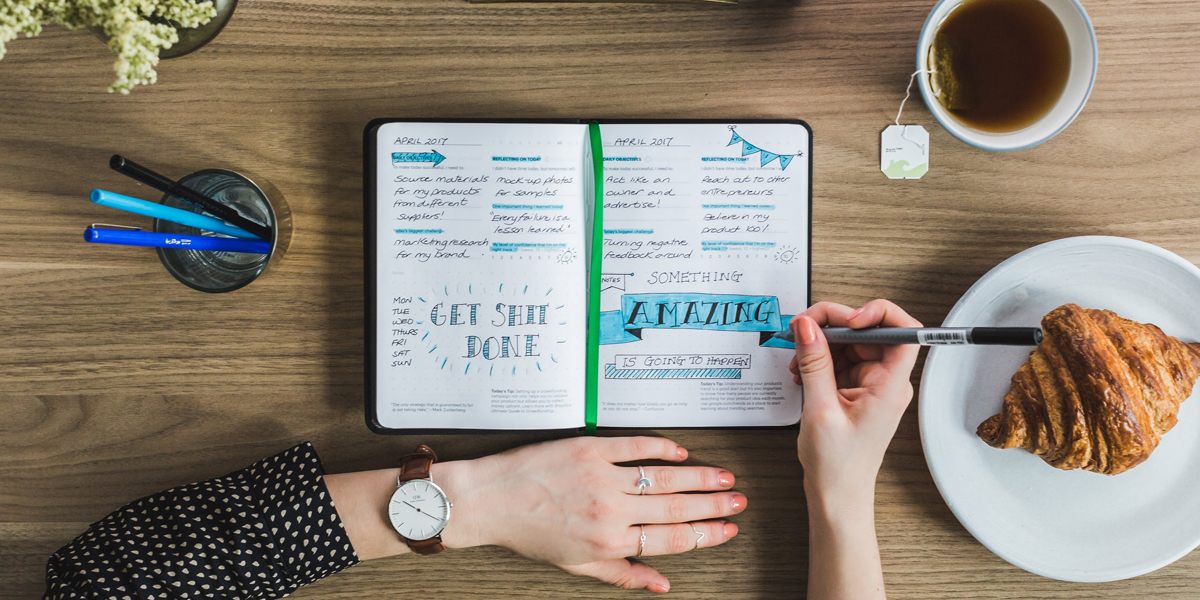 I know what you are thinking. Is it worth the effort? YES!
From years of experience as an IBS dietitian, keeping a food and symptoms journal is one of the best things you can do to identify your food triggers with IBS. It also helps tremendously with eating mindfully. If you are trying to trim a few pounds or not gain weight, it can help with that too (Burke, 2011).
Keeping a food journal is not as hard as you think and you don't have to do it forever.
Why journal?
Our memory is disappointingly inaccurate. I don't remember what I ate for lunch yesterday, do you? Keeping a food journal is extremely important with IBS because reactions to foods can happen up to 24 hours later. Reaction can be caused by a combination of foods eaten at the same meal or throughout the day. The journal also allows other health care providers like doctors and dietitians (like me) help you (Saha, 2014).
More than just food
It's no new news to you that digestive symptoms are caused by many factors.  Reactions can be caused by stress and anxiety. The ups and downs of life can have a huge impact on your digestive system by either speeding it up or slowing it down. Without recording your feelings and symptoms, you may not notice where stress is a factor.
What a dietitian looks for:
"Dietitians are the only qualified health professionls who assess, diagnose, and treat dietary and nutritional problems and are required to deliver evidence based therapy (O'Keeffe, 2017)."
With any type of elimination diet, it takes an educated eye to read food journals, detect FODMAPs, and assess nutritional adequacy. These are some of the things that dietitians look for:
FODMAPs in foods
Nutritional adequacy
Types and severity of symptoms like abdominal pain, bloating, distension, diarrhea, constipation, urgency, incomplete emptying
Too much or too little fiber
FODMAP load per meal or per day
Serving sizes of FODMAPs
Timing of symptoms
Meal spacing
Fluid intake
Stress, anxiety
Physical activity
Is there an app for that?
Yes, but I'll admit that none of the apps are perfect. Here are three electronic options for you:
My Symptoms app – With the free version, you can record everything you eat and drink as well as your symptoms. It includes the Bristol stool chart too. You can export it as a pdf to your health care provider.
My Fitness Pal – My Fitness Pal is very user friendly for recording food and physical activity. With regards to your symptoms, you can record those in the notes section for each day. I can view your diary through my account at anytime.
I love paper and pencil
My favourite journals to review are the paper journals. Pen and paper journaling is conducive to special notes like "had a stressful day," or "ate mindfully today." It is simple and convenient but you do need to carry it with you throughout the day. Some of my clients will have two journals, one at home and one at work. Before your appointment, take a photo of each page and email it to me.
What to write
This will give you an idea of what to keep track of.
Type of food and beverage (including brand), amount (weight or measure), the time you ate
Digestive symptoms such as abdominal pain, gas, bloating, and distension rated on a scale of 1-10
Bowel movements and time of day using the Bristol Stool Chart
Bowel movement urgency on a scale of 1-10
Stress/anxiety on a scale of 1-10
Physical activity
When to record
Right away. The longer you wait, the more likely you are to forget or record the wrong amount.
Don't let perfection hold you back
Don't get hung up on being perfect. Perfection is often what holds people back. I'm commonly told, "I'll start on Monday at the beginning of a new week." Why Monday? Let go of thinking that you need to be perfect. Just start now. If you forget to record a meal, keep going. If you don't record for a day or a weekend, that's ok. Don't let that stop you from picking up the journal again. If you find yourself saying, I'll start again tomorrow.  Just pick up your journal and don't wait for a new day. Let go of the meals you didn't record and keep going. Recording half a day is better than none at all.
How long do I need to journal for?
If you are working with me or another FODMAP dietitian, it is helpful to keep your journal going for the first few weeks. However, after you have worked through all of the stages of the low FODMAP diet, and your symptoms are stable, you can put the journal down.
How much work is it?
Recording in your journal may take 2-3 minutes several times throughout the day. It may be slower at first, but you will get faster. It is more efficient and accurate to keep your journal with you throughout the day.
In summary:
Keeping a food journal does require extra time and effort throughout your day, but it is very worth your while and you don't have to do it forever!  If you would like help with the low FODMAP diet, I offer one on one nutrition counselling by video and phone across Canada. You don't have to go through this alone.