Low FODMAP Greek Inspired Rice Bowl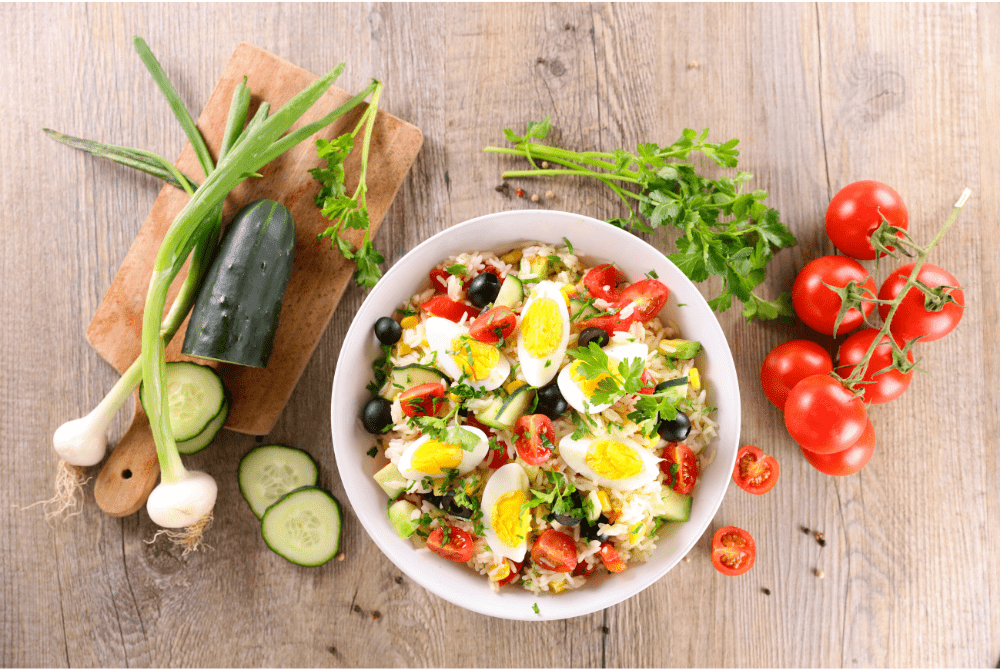 This low FODMAP recipe is another quick one to whip together. As a busy working mom with 3 very active and very hungry boys, I don't have the time to make elaborate meals. However, they do have to taste good and appeal to a variety of little and big people at our dinner table. What I love about this meal is that it has so many different options to choose from! You can either use the exact ingredients listed below, or add a few of your own ideas. Each time I prepare it, everybody's dish looks different depending on their tastes that day.
Greek Inspired Rice Bowl
There's something to please everyone with this dish as they can choose their favourite toppings.
Ingredients
3 cups of cooked rice or quinoa
1/4 cup chopped fresh mint or basil
1 cup canned chickpeas, well rinsed
1 cucumber, chopped
1.5 cups cherry tomatoes, sliced in half
1 red pepper, chopped
4 green onion tops, chopped
150 crumbled feta or cubed cheese
1 cup pitted kalamata olives
4 boiled eggs or left over chicken
1/4 cup of balsamic vinegar
1/4 cup of olive oil
Instructions
Combine the olive oil and balsamic vinegar. Divide all of the ingredients between 4 bowls and drizzle with the dressing.
Enjoy for lunch or as a light dinner.